Reconnecting people to their conscious, healing energy
First sowed as an idea in 2020, the selfless seed of Kůra Růka officially came to life in 2022 with the mission to offer and share the holistic, healing benefits of touch through dynamic, flexible, open, and conscious massage therapies. Specialized in Ayurvedic Yoga Massage and Dynamic Thai Massage, its therapist Raphaël strives to cultivate values in line with this humble endeavor by offering an environment conductive to rejuvenation, solace, kindness, and gratitude to all individuals. From this breath also emerged an organic approach, crafted as a vessel of appreciation intended to further reach others through good deeds aimed at souls in need.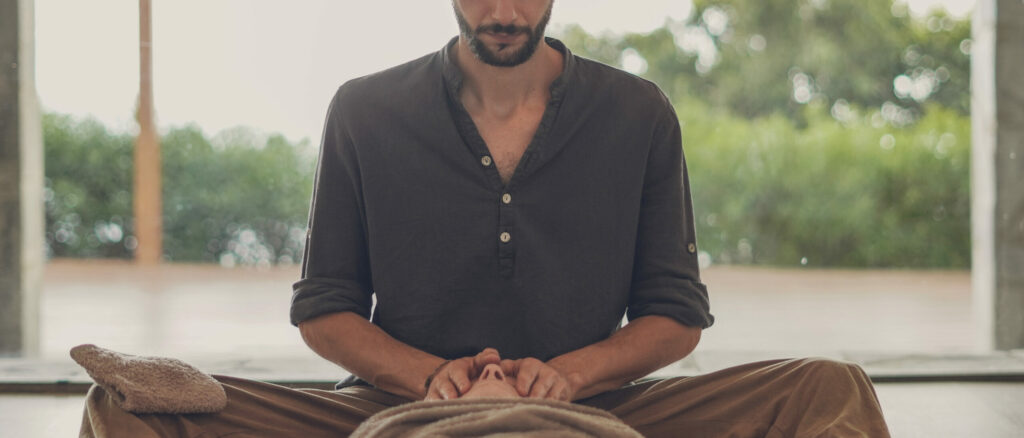 Kůra Růka's name takes its roots from the English and Spanish words 'cure'/'cura', with the word 'ruka' meaning 'hands' in some Slavic languages. 'Kůra Růka' can therefore be translated as 'Healing Hands' or 'Compassionate Hands', encompassing the sacred, altruist and spontaneous character cultivated by serving others through massage. The circles found in the name (represented as ring diacritics) and the logo aim to symbolize the constant flowing of life energy and the nourishing power of healing touch originating from the hands of each individual. In numerous ancient and more modern cultures, such symbols are used to convey and represent unity, wholeness, infinity, perfection, protection, vitality, and the Universe. The name 'Kůra Růka' intentionally shares some of the characteristics of a palindrome, further emphasizing the pervasive, non-dual essence of all things in the timeless existence of the Cosmos.
Professional Partners, Friends & Clients
Acknowledgments
This beautiful endeavor would not have been possible without the great Masters Kusum Modak and Ajanh Chaiyuth Priyasith, initiator of the Ayurvedic Yoga Massage therapy and precursor in integrating dynamic movements into Thai massage respectively; Raphaël's teacher 'Ananta' Sylvain Girard and Remco van de Visch their dedication; and the compassionate work of Xin Chow (Sama Sama Wellness) and Tran Trung Kien (ThaBarWa). A special thanks to Amanda Kirschner (Finca Altavista in Tenerife, Canary Islands) and Chi Yin for their precious support, as well as Vanessa Lang and Es Yoon for their talented eye through their photography work.

Copyright
This website and its content are the sole property of Kůra Růka and its owner, Raphaël Beaupied (© Kůra Růka 2022 – 2023, all rights reserved). Any redistribution or reproduction of part or all of the content in any form is prohibited. You may not distribute or commercially exploit the content, nor may you transmit it or store it in any other website or other form of electronic retrieval system.