A holistic therapy drawing on the Indian traditions of yoga and Ayurveda
Deep tissue oil massage ○ Yoga-based assisted stretching ○ Synchronized breathwork
Ayurvedic Yoga Massage is a holistic bodywork originally developed by Master Kusum Modak in Pune, India in the early 1980s. Influenced by traditional Ayurvedic massage therapy (Vasudev Limaye) and haṭha yoga (B. K. S. Iyengar), this unique method dynamically and synergistically combines deep tissue oil massage with yoga-based assisted stretching and synchronized breathwork. This type of massage allows one to experience a deep sense of openness and well-being on a physical, psychological, and emotional level through the unlocking of the healing power of conscious touch.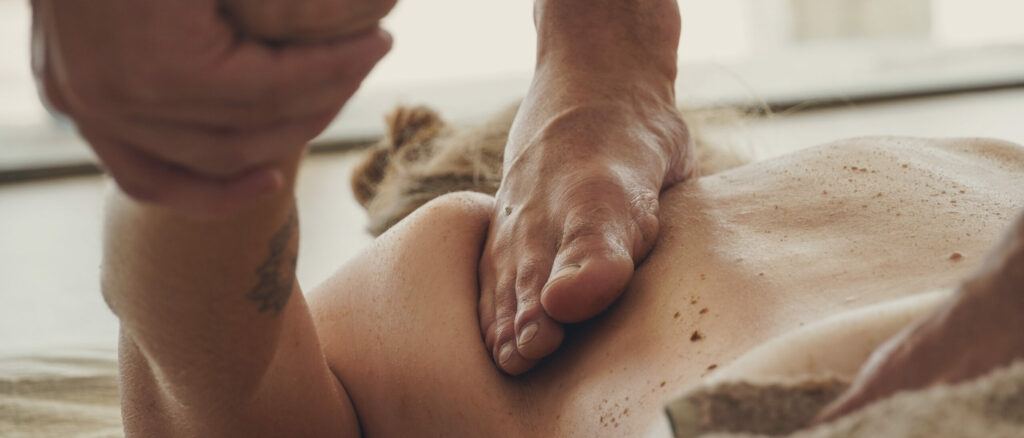 Ayurvedic Yoga Massage is performed on a mat placed on the floor to promote free movement and flow, with each session typically taking 120 minutes (2 hours) to complete. The passive, assisted stretches, coordinated with breathwork, are punctuated with deep, slow massage phases performed with hands and feet with the help of sesame oil and calamus powder. The different degrees of pressure of the strokes and the selection of stretching sequences are intended to suit any individual needs, offering a tailor-made therapy able to ease tensions in the muscles and tissues, improve respiratory patterns, and restore harmony to the subtle energies of the body.
Sesame Oil and Calamus Powder
Sesame (Sesamum indicum) oil has been used extensively in Indian healing traditions for thousands of years. It is notably used in other Ayurvedic massage therapies such as Abhyanga and in oil pulling. Rich in vitamin E, sesame oil possesses antioxidant, antimicrobial, and anti-inflammatory properties as well as nourishing, calming, and warming qualities that are known to be very beneficial for the skin and especially suitable for Ayurvedic Yoga Massage therapies. In Ayurveda, it is said to be the only oil that has the power to penetrate all seven layers of the skin and to nourish all the organs and tissues. Its moderately low rating on the comedogenic scale (pore-clogging properties) also naturally accommodates many types of skin, making it particularly versatile.
Benefits of sesame oil:
Helps to control and heal skin damage caused by free radicals, unstable molecules, or environmental factors (UV rays, pollution, toxins)
Protects the skin by regulating its pH
Promotes the removal of harmful microorganisms and dead cells
Reduces inflammations and swelling
Balances Vata (known to experience excess dryness when out of balance) by moisturizing and rehydrating the skin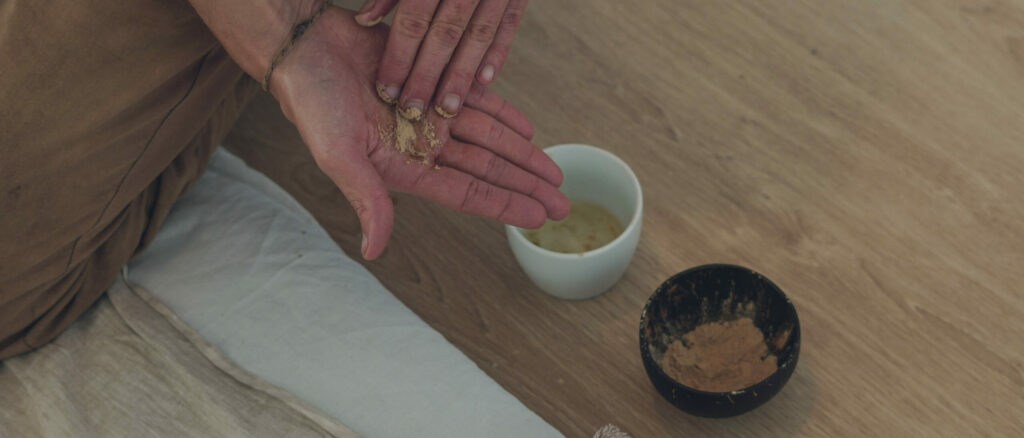 Calamus (Acorus calamus) – also knows as 'Vacha' in Sanskrit, 'Bach' in Hindi, 'Chāngpú 菖蒲' in Mandarin, or more commonly 'Sweet Flag' in English – is a herbaceous perennial plant whose roots have been used in Ayurveda for thousands of years in the prescription of many herbal formulations, as well as in Traditional Chinese Medicine, and Native American herbal traditions. Ayurvedic Yoga Massage uses calamus in its powder form (unmixed), yielding many positive effects thanks to its exfoliating properties and symbiotic relationship with sesame oil.
Benefits of calamus powder:
Improves blood and lymphatic circulation
Promotes the removal of toxins, reinvigorates the skin by removing dead cells and promoting its regeneration
Helps to further balance Vata
Stimulates nervous system activity
Provides a purifying and cleansing influence at the physiological level
This massage is unique compared to others that I've received before. Raphaël is very professional, right from the start until the end. He's very consistent in his flow, respectful and gently guiding every move of my body throughout his massage process. He checks in a few times if the applied pressure is right for me. I was in a very relaxed, meditative state. He focused on the parts that needed to be addressed and I felt better almost immediately. I loved the combination of oil and calamus powder. It's very soothing and I could feel that my skin was greatly nourished. I look forward to having another session with him. Highly recommended.
Lily L.
Dot mandala artist (Penang, Malaysia)
Note
Kůra Růka strives to use organic, unrefined, cold-pressed sesame oil and organic calamus powder carefully selected from trusted sources. To better serve its clients, Kůra Růka's therapist eventually aims to grow and produce its own sesame (oil) and calamus (powder) within a permaculture system.
In some cases, Raphaël may use other types of oil such as grapeseed or almond oil as an alternative.
Ayurvedic Yoga Massage is designed to offer multiple physical, psychological, and energetical benefits that can be quickly experienced by those receiving the therapy. The positive effects and improvements resulting from this type of massage contribute to the alleviation and recovery of injuries and conditions, and ease an array of common ailments. From an Ayurveda-based perspective, this therapy aims to nourish Agni (digestive fire), enhance the flow of Prana (life force), and balance the chakras (centers of vital energy).
Ayurveda Yoga Massage's main observable benefits:
Reduces muscle tension
Eases joint pain
Helps recover from muscular injuries
Improves flexibility
Increases mobility and range of motion
Improves breathing capacity
Promotes circulation
Facilitates digestion
Cultivates proprioceptive sensitivity
Promotes mindfulness and body awareness
Increases and balances energy levels
Reduces mental stress and induces relaxation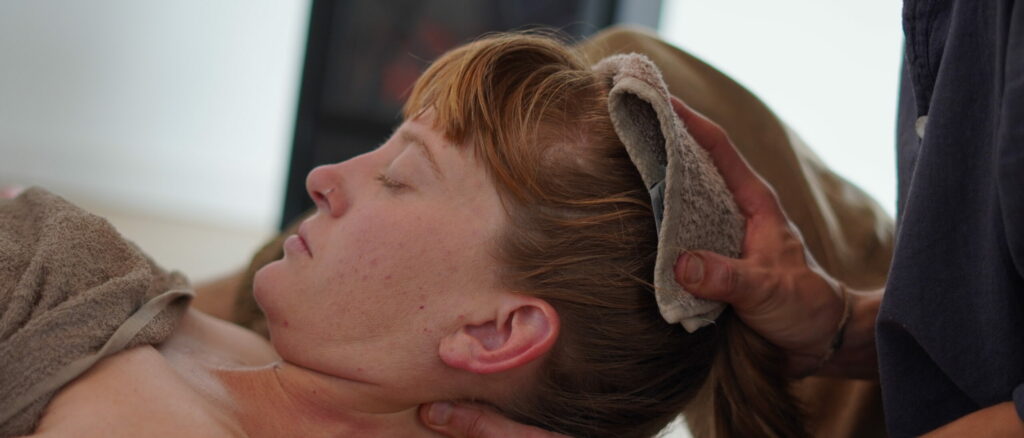 Ayurvedic Yoga Massage has been found to provide relief and promote recovery from several conditions, injuries and ailments:
Localized physical tension and general stiffness
Joint and muscle-related pain, disorders, injuries, and inflammations (arthritis, tendonitis, RSIs, knee pain, tennis and golf elbows)
Poor circulation
Respiratory conditions (asthma, thoracic breathing)
Digestive disorders (abdominal bloating, constipation)
Neurological disorders (headache, migraine)
Sleep disorders (insomnia)
Stress, anxiety, and lethargy
Total exquisite experience. High-quality service with attention to detail. Good work!
Mateusz P.
Financial journalist (Warsaw, Poland)