A natural, handmade herbal balm to relieve muscle pain, soreness, and inflammation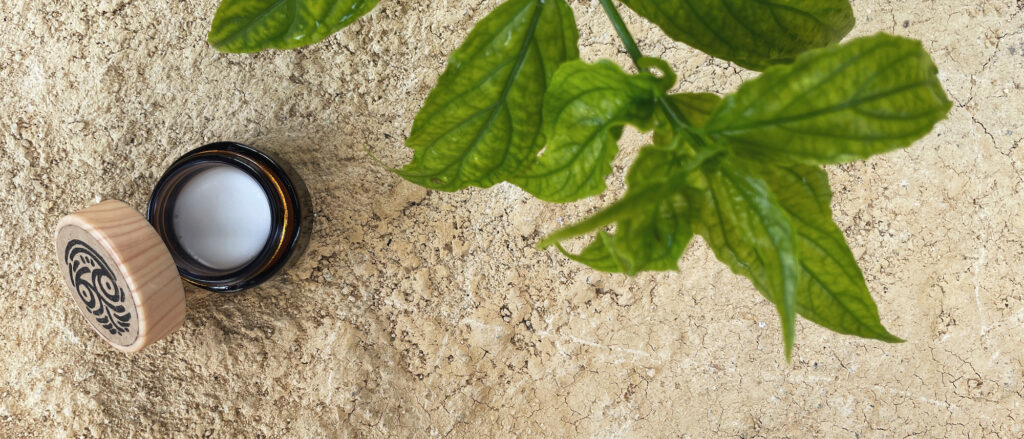 Kůra Růka has humbly crafted the Akasha Herbal Balm by carefully selecting and synergistically combining local herbs, coconut oil, camphor essential oil, menthol, and Epsom salt to offer a soothing comfort and a deep, nourishing effect to the muscles, joints, and tendons. Its Fire and Water properties (warming and cooling) help release muscular soreness arising from physical activity, and contribute to the recovery from strains, sprains, and spasms while stimulating and promoting a healthy blood circulation.
The particularity of the Akasha Herbal Balm lies in the use of Epsom salt, which is said to offer a relaxing effect with the ability to promote a healthy circulation. Concurrently used with camphor and menthol that cool the skin and penetrate deep into the tissues, and combined with the analgesic and anti-inflammatory properties of snake grass and ginger, Epsom salt helps in the relief of sore and inflamed muscles and tendons. It is known to be beneficial in the recovery phase for athletes and for individuals practicing moderate or sustained physical activity.
All the herbs used for the crafting of the Akasha herbal balm have been grown naturally at our farm and harvested fresh to get the most of their inherent properties and healing energy. Great care is taken in their selection and processing in order to offer a powerful and well-balanced formula suitable for most individuals. The same attention has been applied to the coconut oil used in the preparation of this herbal balm, which is extra virgin, cold pressed, and unrefined.
In Vedantic Hinduism, Ether or 'Ākāsa' in Sanskrit, is the basis and essence of all things in the material world, being sometimes referred as the imperceptible force that the rest of the world is derived from. It is the first element created among the five that make up the Pañcamahābhūta (five great elements), with the others being Earth, Fire, Air, and Water. Akasha is the synergy of the five elements, representing space, stillness, that which contains and holds, while connecting us to other realms and planes.
While it is still used in its literal sense ('sky' or 'atmosphere'), in Vedantic philosophy, the word acquires its more exact philosophical meaning of an 'ethereal fluid imagined as pervading the Cosmos.' It is the very essence of emptiness or vacuity. For Buddhists, Ether is divided into Ākāsa-dhātu ('limited space') and Ajatākasā ('endless space').
Ingredients and Additional Information
Type
Natural handmade herbal balm (free from petroleum, parabens, and pthalates)
Indication
Formulated to alleviate joint and muscle pain, soreness, and inflammation
Capacity
20 ml (0.70 oz)
Price
RM20 (SPECIAL OFFER: get a RM2 discount by returning your empty jar and making a new purchase)
Ingredients
Sabah snake grass / Belalai gajah (Clinacanthus nutans), Ginger (Zingiber officinale), Epsom salt (Mgnesium sulfate heptahydrate), Coconut oil (Cocos nucifera), Camphor essential oil (Cinnamomum camphora), Menthol crystals (Mentha arvensis), Beeswax
Use
Test on a small area of skin before use. Apply to muscles and massage gently. Repeat 3–4 times daily. For external use only. Do not apply to the eyes or during pregnancy. Keep out of the reach of children. Store in a cool and dry place. Use within 1 year after opening.
Exclusive offer
All first purchases of an Akasha herbal balm come with a free RM15 discount coupon applicable to any of the massage therapies offered by Kůra Růka (redeemable once per person).
Note
As of today, Kůra Růka is not able to offer domestic or international shipping services for this product. Please kindly refer to the list of local points of sale and pickup points below to make your purchase.
Disclaimer
Kůra Růka's herbal products are not intended to diagnose, treat, cure, or prevent any specific disease. Kůra Růka does not guarantee a specific outcome or result through their use and cannot be liable for any possible adverse reactions and side effects. The information found on this website is for educational purposes only and is not a substitute for professional medical advice, diagnosis or treatment. Customers must accept ownership and responsibility for their own health.
Currently Available at the Following Points of Sale